It was a super metal week for me!
Overkill - Overkill, Feel the Fire, Taking Over, Fuck You, Under the Influence, The Years of Decay, Horrorscope. Went to see Overkill for the gazillionth time on Valentines day (I have seen them at least once a year since 1990, and in many years, more than once, so I've seen these guys well over 30 times) and the show put me in the mood, as they always do, to listen to their classic albums. I don't much care for anything after Horrorscope, although W.F.O. and Ironbound are both good, and there are solid tunes scattered throughout the rest of their discography. The first five albums, though, are all total classics. And the band is still great live, even if Blitz sounds more and more like a bad Udo impersonator every year and they still can't find a decent drummer. One thing I love about these guys is that they always break out a couple interesting oldies every tour, and this time they played little-heard chestnuts like "Feel the Fire," "Infectious," and "Nice Day for a Funeral." Of course, it would be nice if they'd treat us long-suffering American Overkill fans to the full-album sets of the debut and Horrorscope that they peddled on the fest circuit, but such is life.
Kreator - Terrible Certainty, Out of the Dark... Into the Light. TC is the best Kreator album, but OotD is the best Kreator cover. I love the live version of "Awakening of the Gods" on this EP, and I love that they covered Raven. Raven gets no respect.
Witherfall - Nocturnes and Requiems. Cool new band who are kinda like a cross between Nevermore and the past few Symphony X albums. Witherfall are never as shreddy or proggy as Sym X, but I think they have a similar vibe in places. Good singer, good tunes, nice production, and even a cool cover by Necrolord. It's nice to find a really great new band, which is happening less and less for me these days. I'm turning into von, except I like a lot of music made after 1991
Sodom - Decision Day. Finally picked up the extra fancy Japanese version with the bonus track and the live DVD I'll probably never watch. I think this is a good disc, if not quite as good as Epitoooooom of Torture. I like that Tom's voice is getting higher, too - reminds me of Persecution Mania.
Astronoid - Air. Saw these guys with Moon Tooth last week, and they were great. If Mew were a black metal band, they would sound like Astronoid. I think these guys could use more compelling vocal melodies, but they're onto something great here, and I'm looking forward to what they come up with next.
Moon Tooth - Chromaparagon. The guitarist in this band is the new second guitarist in Riot, and he's amazing. This is a weird band; they remind me of some of those oddball alternative/crossover metal bands from the early 90s, like Mind Over Four or Into Another. This is more metal, but not really less weird than either of those bands. The singer also has a bit of a whiny/emo voice kinda like the guy from Into Another. He's not great, but he's interesting at least. He's much worse live, unfortunately, but watching Nick Lee play guitar is worth it - they guy is awesome and writes some really, really clever guitar riffs.
Riot - Fire Down Under. Who needs a reason to listen to FDU? It seems I ripped the High Vaultage version, which has kind of a shitty mix. I should rip the Metal Blade reissue. Don't know why I didn't do that in the first place.
Bolt Thrower - War Master. I listened to almost all the other great Bolt Thrower albums last week, and it seemed wrong to skip this one, although the real reason I thought to listen to BT was that I saw an article on a new version of Warhammer 40k. I know, I know...
Heretic - Breaking Point. Don't know what made me think to spin this one. Maybe it just came next after something else I was listening to. Killer album, and highly underappreciated. It's significantly better than all the Mike Howe Metal Church albums except for Blessing in Disguise.
Spellcaster - Night Hides the World. Really strong retrad with a great singer. Not as essential as Holy Grail, but at least on par with Visigoth. I recall checking them out a while ago, maybe when they were on Heavy Artillery, and not being impressed, but maybe I shoudl revisit their earlier stuff.
Cynic - Uroboric Forms. Really nicely done collection of the band's pre-Focus demos. The 1991 demo in particular is an utter classic. Two of the three tunes appeared on Focus, but these demos were made with Tony Choy, and evidently before Paul discovered jazz, because the arrangements and riffs here are pure metal. There's also a great song that wasn't redone for Focus. Their earlier demos are not nearly as good, and they get much worse as you go backwards in time, but at least the last one before Roadrunner signed them (it was the label who paid for that 1991 demo) is decent. It would have been nice for them to have included the demo they made before Traced in Air, too - the two studio cuts on that are a bit more lively than the final album versions, but what are you gonna do? Also, it would have been nice had they printed a fucking tracklist somewhere. You have to flip through the booklet to figure out what you're listening to (and when I ripped it to iTunes, it wasn't yet in their system.) Fuckers.
Thundercat - everything. Seeing him in a couple weeks, and still kind of obsessed. He has a new album due soon, and it's actually the reason I thought to spin Kreator's Out of the Dark... Into the Light. Observe: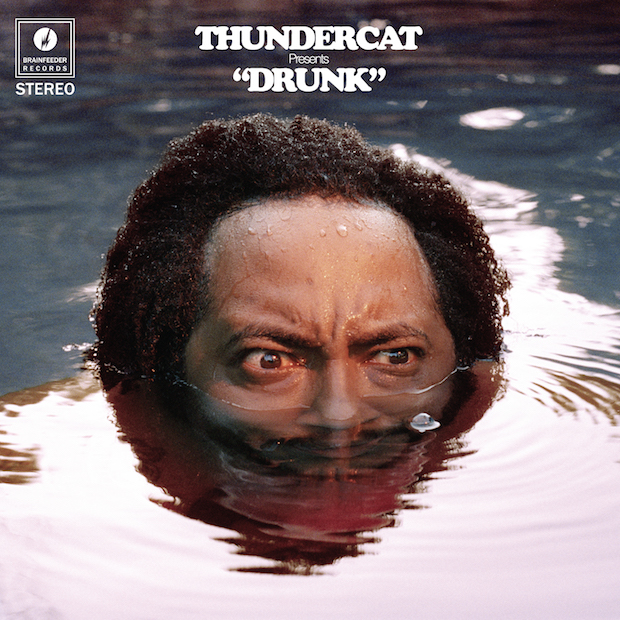 Leprous - Live at Rockefeller Music Hall. I bought the CD version, because I almost never watch music DVDs. Great recording and good setlist. I think our lurking pal Aki was at this show.
Soilwork - A Predator's Portrait. Totally classic. No one has made a better melodic death metal album that's better than this since, including Soilwork, who never even made a really good album again. This album launched a thousand shitty bands, but it's so good I can't hold its pernicious influence against it. Even Speed's weak clean vocals work, because the riffing is so motherfucking epic.
Matt